TOP QUALITY TRAINING—OUR PROGRAMS
SECURITY LICENSE UNARMED GUARD – $100
Day, Night, and Weekend Classes Available
Training Curriculum
Chapter 493, Florida Statutes
Chapter 5N-1, Florida Administrative Code
Legal Issues; Liability
Basic Emergency First Aid
Emergency Procedures
Ethics and Professional Conduct
Access Control
Patrol Techniques
Observation Techniques and Report Writing
Interviewing Techniques
Fire Detection, Suppression and Life Safety
Crime and Accident Prevention Techniques and Practices
Crime and Accident Scene Protection
Terrorism Awareness
Public Relations
Courtroom Procedures
Fundamentals of Personal Security
Interpersonal Communications
Firearm Safety
All study materials approved by the State of Florida, with application notarization, fingerprinting, and certificate upon completion.
WHO SHOULD TAKE SECURITY GUARD TRAINING?
If you're looking for a way to make a difference, training to be a security guard is your first step. Whether you want to work in security or make the move to the police force, our training course will give you the tools and knowledge you need to be effective. This course is perfect for people who are passionate about protecting people and who have a sense of law and order. We teach firearm safety and emergency procedures to help you keep calm in the face of an emergency. Our training course is perfect for former military personnel looking to re-enter the workforce in a way that utilizes and respects their experience.
THE IMPORTANCE OF HANDS-ON TRAINING
Our training course includes a great deal of hands-on training. When it comes to security, there are some things that you can't learn from a book. When you go through our training, you are more prepared to handle situations, as you have actually run through the procedures and techniques necessary to be effective. With hands-on training, you are able to become a reliable security guard with the experience needed to deal with a variety of possibilities quickly, calmly, and safely.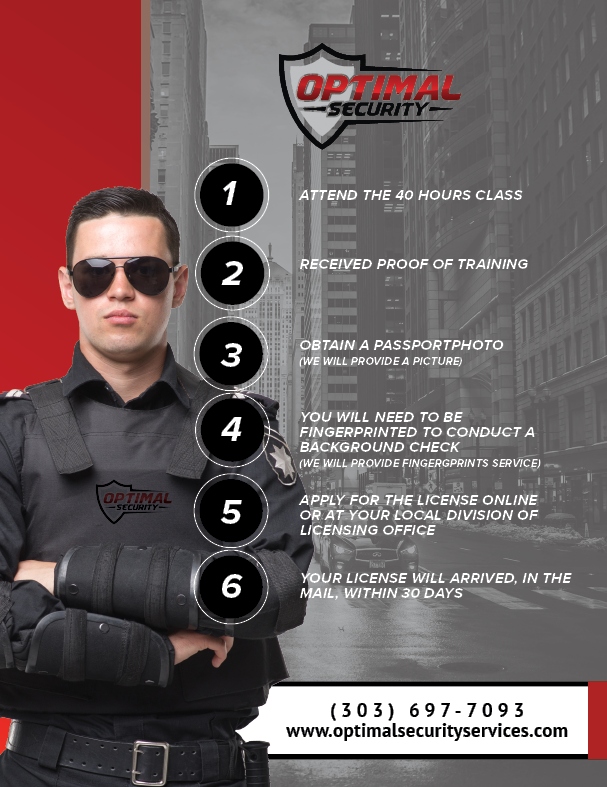 How to Obtain your Security D License
THE HIGHEST-RATED SPECIALIZED SECURITY GUARD TRAINERS IN MIAMI
Are you passionate about protecting people and doing the right thing? Then a bright future as a professional security guard awaits you!
Optimal Security Services is here to provide you with specialized security guard training classes in Miami conducted by friendly, knowledgeable instructors who have years of experience in the field.
If you want to train with the best, you've come to the right place!
WHY THE SECURITY BUSINESS?
Becoming a professional security guard is an exciting, fulfilling, and financially stable career path that's pursued by those who want to uphold the law.
In today's fast-paced and dangerous world, having a reliable security guard has become more critical than ever to provide organizations and their staff with adequate protection. Well-trained security guards ensure the safety of employees, property, and private residents. Security guards patrol and provide surveillance in a wide variety of settings, including banks, public museums, hospitals, schools, shopping malls, entertainment venues, and office complexes.
The State regulates the amount of training that's usually required to be a security guard. Those who are drawn to this profession need to demonstrate the ability to deal with dangerous and highly stressful situations, which is honed in our formal training program.
At Optimal Security Services, we strive to set security guards up for success! Our specialized security guard training will not only guarantee you a position within a renowned security company but will also increase your remuneration significantly.
WHY SIGN UP FOR CLASSES AT OPTIMAL SECURITY SERVICES?
Security guards are invaluable to private citizens and business organizations.
Employment projection for security guards will see a 5% increase from 2017-2024.
Those with work experience in law enforcement or technology will have the best prospects.
Our security guard training is not expensive, and there's always a demand for a licensed security guard.
OPTIMAL SECURITY SERVICES—SECURITY GUARD CLASSES IN MIAMI
Since security guard training programs are a necessity for getting hired in the profession, we offer experienced security guard training programs. Additional courses help those who wish to join this profession and allow them to learn the necessary skills to be successful and effective during dangerous situations. Optimal Security Services is in the business of providing the best security guard training under friendly and knowledgeable instructors in Miami. We have years of experience and have the certifications to prove it.
SPECIALTY SECURITY PROFESSION
Most states require those who are professional security guards to renew their licensure or certifications. This means that security guards often have to take part in specialty security guard classes as a form of continuing education that's required for the renewal of their certification. At Optimal Security Services, we provide security guards with an approved list of coursework and refresher classes that are split into two parts — armed and unarmed security guard training programs.
WHY JOIN US?
Hands-on training programs.
Up-to-date and easy to follow coursework.
Highly experienced instructors with 15+ years of experience in the security field.
Agency approved to provide basic and advanced training for security guard licensing.
The only way for a more secure world is with a well-trained security detail. It is with that in mind that Optimal Security seeks to provide the best security training available in and around Miami-Dade, Broward, and Palm Beach Counties. We have taken the same customer-first attitude we carry in our security service into our training programs. Optimal Security believes that training, safety, and knowledge are what set our trainees apart from the rank and file of security guards. Our security guard trainers are the highest rated in all of Miami. Simply put, if you want to train with the best, you want to train with Optimal Security.
WHY IS OPTIMAL SECURITY THE BEST?
While it is easy to say we have the highest-rated security guard trainers in Miami, we know how to back it up. Our services are robust and dependable thanks to our team of veteran security officers and security consultants. We have taken decades worth of knowledge and packed it into our training programs. That means you'll be learning from the best, people who have actually been in the field and experienced just about everything the job entails. They'll be able to answer all of your questions, provide you with real-world examples of what you may encounter, and teach you how to react appropriately no matter what comes up.
SECURITY TRAINING CLASSES
All of the study materials used by Optimal Security have been approved by the State of Florida, along with application notarization, fingerprinting, and certificate following completion of the training course. We'll guide you through hands-on training programs that get you real-world experience to prepare you for the field. Our highly experienced trainers have over 15 years' worth of experience in the security field, so they are fully equipped to provide you with the training that makes you an ideal security guard. Optimal Security utilizes up-to-date and easy to follow coursework, so you don't have to worry about falling behind. Our agency has been approved to provide both basic and advanced training for security guard training.
Security guard training programs are an absolute necessity for getting hired as a professional security guard. With our friendly and knowledgeable instructors, you'll learn the necessary skills to be both successful and effective in the event of a dangerous situation. We also offer additional courses for those who are already in the field but are looking to improve their skills and knowledge. So whether you are looking for basic training to get started on the licensing process or you are in need of refresher courses to renew your license or certifications, Optimal Security can help you.
TRAINING CURRICULUM OFFERED BY OPTIMAL SECURITY
With the wide range of licensing and knowledge necessary to be an effective security guard, Optimal Security offers an extensive training curriculum to ensure you a prepared for whatever the situation may call for.
Sign Up For Our Newsletter