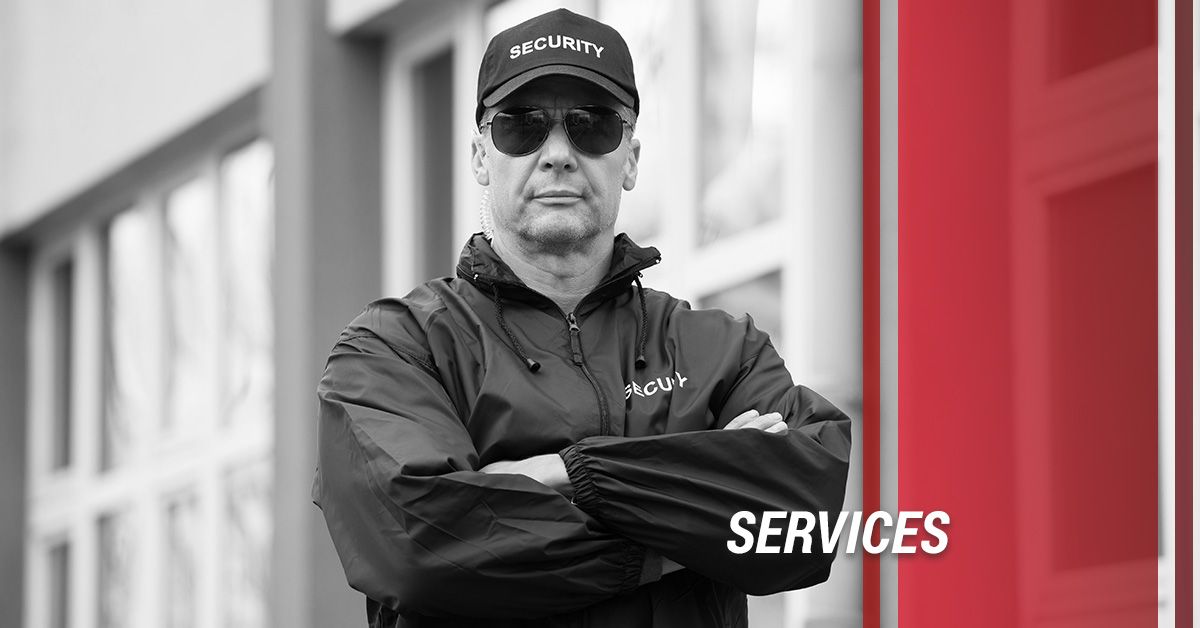 SAFETY AND PEACE OF MIND WITH OPTIMAL SECURITY SERVICES
At Optimal Security, we offer full-spectrum security services that provide you and your business with safety and peace of mind. Our highly-trained security personnel is equipped to deal with a variety of situations and client requirements. We offer many different security services to ensure that we have just what you need. We don't just send guards to protect your staff and valuables—we follow a process that allows us to provide the best security services that yield the best outcomes.

EVENT SECURITY
There are a variety of events that naturally invite the wrong kind of guest with the worst intentions. If security services at your special event would make you feel more confident and comfortable and allow your guests to feel the same, then Optimal Security Services can help! We will provide security personnel that will be able to make your guests feel safe and welcome while making it known that intruders are not welcome.
Before the event, our staff will scope out the area your event is in and assess the overall physical security of the event location. We will cover any weak spots that we identify to ensure that your event goes off without a hitch. Our team will be in touch with you as you plan the event to ensure our security plans match your event details perfectly.
During the event, you can rest assured that our security detail will have eyes on what is happening and all of the people in attendance. If you have particular concerns, we can cover those areas more directly. Our security personnel can communicate the status of the even to whomever you designate and can respond quickly and efficiently to any security threat.
Make sure that your event is one to remember and that all of your guests return home as safely as they arrived. Include Optimal Security as part of your event planning!

SECURITY CONSULTING
If you are interested in the security assessment of your location or business, we provide security consultation services that increase the safety of you, your people, and your assets. We assess the area as well as your existing security systems to find any flaws and make recommendations for improvements. We also provide solutions to any security problems or risks that you may have. Thanks to decades of security service experience, Optimal Solutions is able to provide security consulting that delivers results!
Our security consulting services include risk assessment, physical security assessment and design, guard force development, perimeter protection planning, and operations planning. Contact us at Optimal Security Services to schedule your security consulting appointment today!

SECURITY GUARDS
Security guards for hire are becoming increasingly popular for protecting assets and physical locations. Whether your situation warrants roving armed guards or posted unarmed guards solely for the presence, Optimal Security has the perfect security detail for you.
Optimal Solutions has a rigorous screening process results in hiring only the best of the best, and then we provide them with cutting-edge training. This results in security guards that know how to de-escalate situations and keep you and your property safe. Our guards are known for their alertness, their ability to tackle a variety of situations, and keeping people and assets safe.

ARMED GUARDS
Armed security is perfect for organizations that have highly valuable assets or are located in unsafe locations. At Optimal Security, we provide armed guards that are adequately trained in firearm use and safety. This helps reduce the liability to your organization and places the responsibility of training and accountability on our company.
Our armed guards are trained in escorting individuals who need protection as well as armed physical security. Safety is our number one concern, and all of our security training is directed at promoting safety and security in our work. If you have security concerns that require armed guards, contact us at Optimal Security today!

UNARMED GUARDS
Unarmed guards are practical in almost any situation. They are trained in defusing tough situations as well as dealing with issues in the least problematic way possible. Unarmed guards provide a physical presence and trained, observant, vigilant eyes watching and protecting your people, business, and assets. Unarmed guards help to reduce liability by eliminating the presence of a weapon that may otherwise escalate a situation.
Unarmed security guards from Optimal Security are perfect for companies who want to ensure nothing valuable gets stolen, and the personnel feels safe at all times. They are ideal for hire for events, situations, or locations where violence is not often seen, and access to law enforcement is quick. If you are interested in protecting people, assets, or a business, get hired unarmed security guards from Optimal Security Services today!

RETAIL LOSS PREVENTION
Retail loss is a big issue for retailers of all kinds, as it directly affects their profits and increases costs. Despite the best anti-theft devices and security precautions, thieves are able to get what they want out of your store. Managing loss yourself takes away from the time you have to invest in the operations of your store and results in a reduction of manpower, an increase in hours worked, and stress for you, and all without the results you hope for.
At Optimal Security Services, our retail loss prevention professionals are adequately trained in dealing with people trying to steal products from your store. Our security personnel is trained in all the local laws regarding what we can do legally to minimize losses. Our guards will continuously patrol your store to ensure no one gets any opportunity whatsoever to steal your valuable assets. Our retail loss prevention services don't just result in less theft – they also result in fewer headaches in managing liability. Let us assess your current security situation and provide the protection you need!

MOBILE PATROL INSPECTION
Mobile Patrol Inspection is a cost-effective way to keep your assets safe. If you do not need guards posted near your premises 24/7, but still need an observant eye to help deter theft and vandalism, you can have our mobile patrol inspection unit visit the area over set intervals to ensure that everything is safe and secure.
Mobile patrol inspections include a full perimeter inspection that can consist of both interior and exterior. Once the perimeter is cleared, the mobile patrol inspection unit will leave your location to inspect other locations. These short-interval security services are ideal in areas where crime is not typical or expected. However, there are still assets that warrant protection, such as financial institutions and construction sites. Read More
If you need an affordable, reliable security service that you can count on, contact us at Optimal Security Services today!
Our Miami-based security agency is prepared to meet a wide number of different security needs fo you or your business. If you are curious about whether our security services will fit into your business or personal needs, please do not hesitate to give us a call. One of our professional team members will be happy to answer any questions that you may have.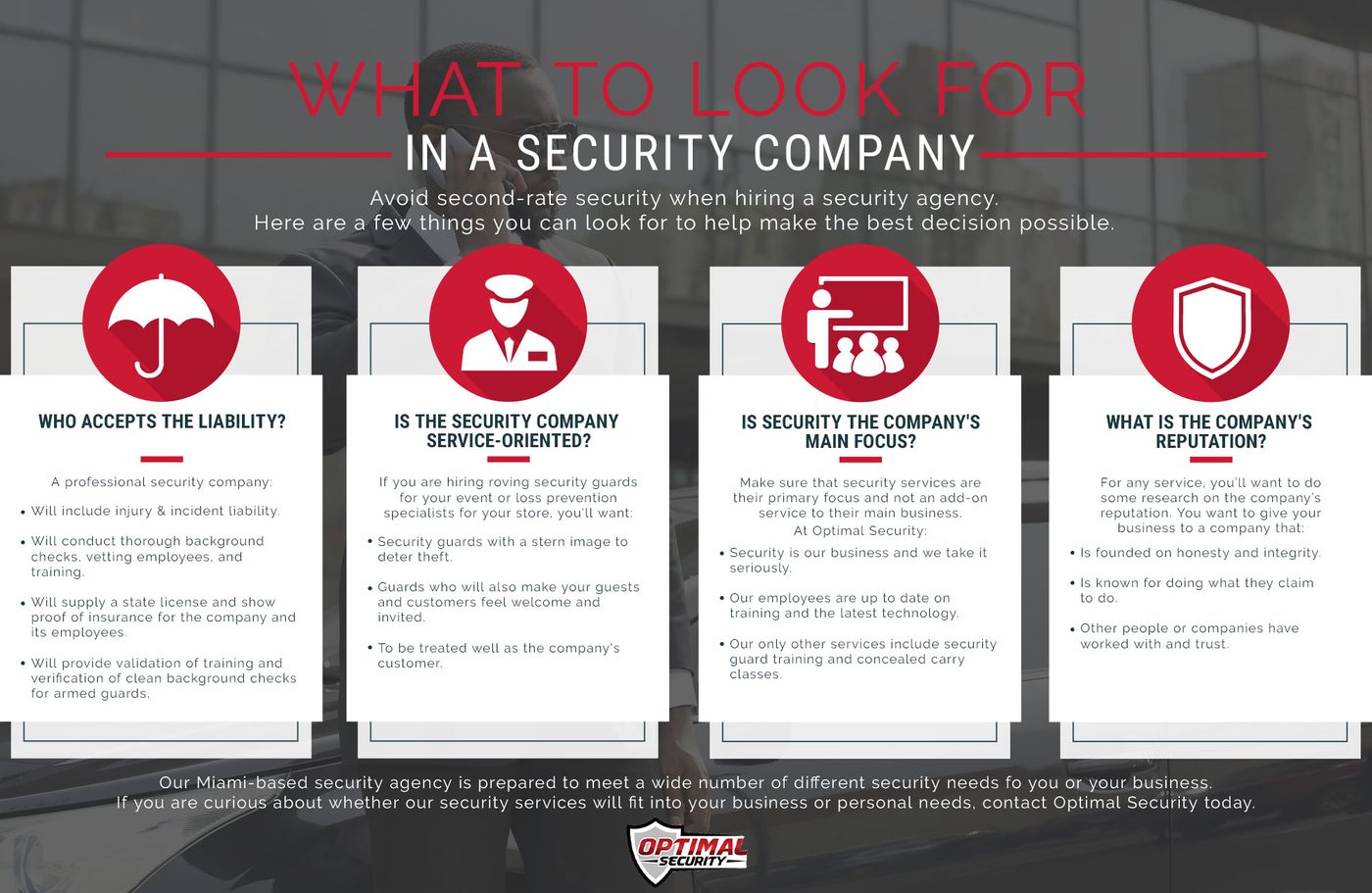 WHAT TO LOOK FOR IN A SECURITY COMPANY
When you are contemplating whether or not you should invest the money in hiring a third-party security agency, chances are you have already decided you need the added protection but are really debating who you can trust and where you should invest. When you are looking for a security services company, there are a few things that you can look for to help you make the best decision possible.
WHO ACCEPTS THE LIABILITY?
If the security company is professional and legitimate, they will accept the responsibility for their employees. Not only does this include liability in the event that there is an injury or incident, but also for conducting thorough background checks, vetting employees, and training.
Don't be afraid to ask for licensure and insurance. The agency should be able to supply a state license and show proof of insurance for the company and its employees. If the agency provides armed guards, you can ask for validation of training and verification of clean background checks.
IS THE SECURITY COMPANY SERVICE-ORIENTED?
If you are hiring armed mobile patrol inspectors, customer service may not be one of the most important things to consider. However, if you are hiring roving security guards for your event or loss prevention specialists for your store, you'll want security guards that present a stern image that deters theft, while also making your guests and customers feel welcome and invited. Regardless of why you are hiring a security service or what services you are looking for from them, you'll want to make sure that you are treated well as their customer.
IS SECURITY THE COMPANY'S MAIN FOCUS?
Before hiring a security service, you'll want to make sure that security services are their primary focus and not an add-on service to something else. When a handyman or a landscaper offers security services, it doesn't necessarily mean that it isn't quality. Still, it does mean that that is not their primary focus, so they may not be as up to date on training and the latest technology.
At Optimal Security, security is our business! Our only other services include security guard training services and concealed carry classes. We take security seriously, and it shows!
WHAT IS THE COMPANY'S REPUTATION?
For any service, you'll want to do some research on what the company's reputation is. You want to do business with a company that is founded on honesty and integrity and known for doing what it is they claim to do. With security companies, you'll want one that is known for providing quality security services and potential mitigating situations.
You can ask other people or companies for advice on a security company that they have trusted. You can read through online testimonials and reviews, or use other platforms that help you discover what the company is known for and what you can expect from their services.
If you are looking for a quality security company to protect your business and assets, contact the security professionals at Optimal Security.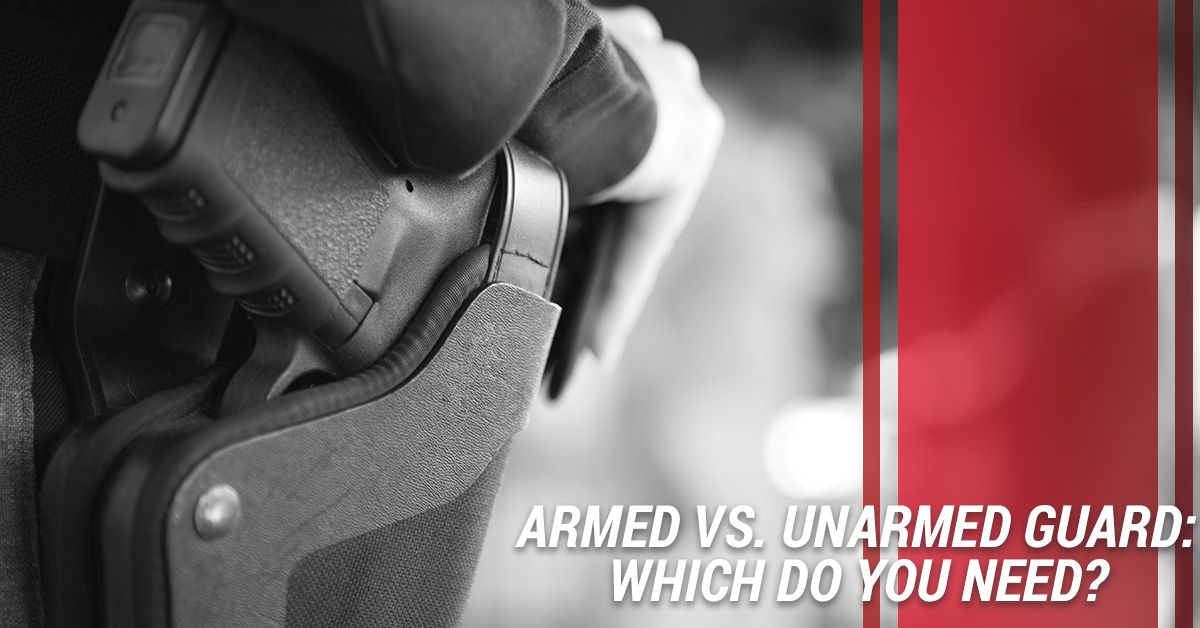 ARMED VS. UNARMED GUARD: WHICH DO YOU NEED?
Upon initial consideration of hiring a security services company, it may seem like a no-brainer to opt for armed guards because weapons equal security, right? This is not necessarily the case, and you will not always need the services of armed guards. To help you decide whether you want armed or unarmed security guards, there are a few factors to consider.
Keep in mind that unarmed security guards are still highly trained in de-escalation techniques, manual takedowns and can carry some non-lethal weapons that offer additional protection, including tasers, batons, and sprays. The absence of a lethal weapon on a trained security guard does not mean there is a compromise to effectiveness in the security that they offer.
WHAT IS BEING PROTECTED?
One of the most significant considerations is what is being protected and from what. If there are highly sought after, priceless valuables or a high-profile person, armed guards may be the smarter of two options. The presence of lethal weapons may discourage attempts of violence or theft, to begin with, and in the event that a perpetrator is armed, an armed guard can match weapons and be more effective at de-escalating a situation.
However, if you are protecting a building or need loss prevention services, there is no reason to have an armed guard posted. Lethal weapons in a retail store can actually deter hopeful shoppers from entering your shop if they feel uncomfortable around weapons. Additionally, in the presence of weapons, some people may feel like your establishment is not a safe place to be if protecting it warrants lethal weapons, and may avoid entering. If the armed guards are behind the scenes, it may be worth it, but otherwise, you may want to consider unarmed guards instead.
HOW MUCH ARE YOU LOOKING TO SPEND?
In general, unarmed guards will cost less to hire than armed guards. This has a lot to do with liability and insurance costs. Keep in mind that in addition to the security company's increased fees for armed services, your insurance may go up slightly. If you are protecting something valuable or there is a high potential for violence, it is worth the additional cost to hire armed guards.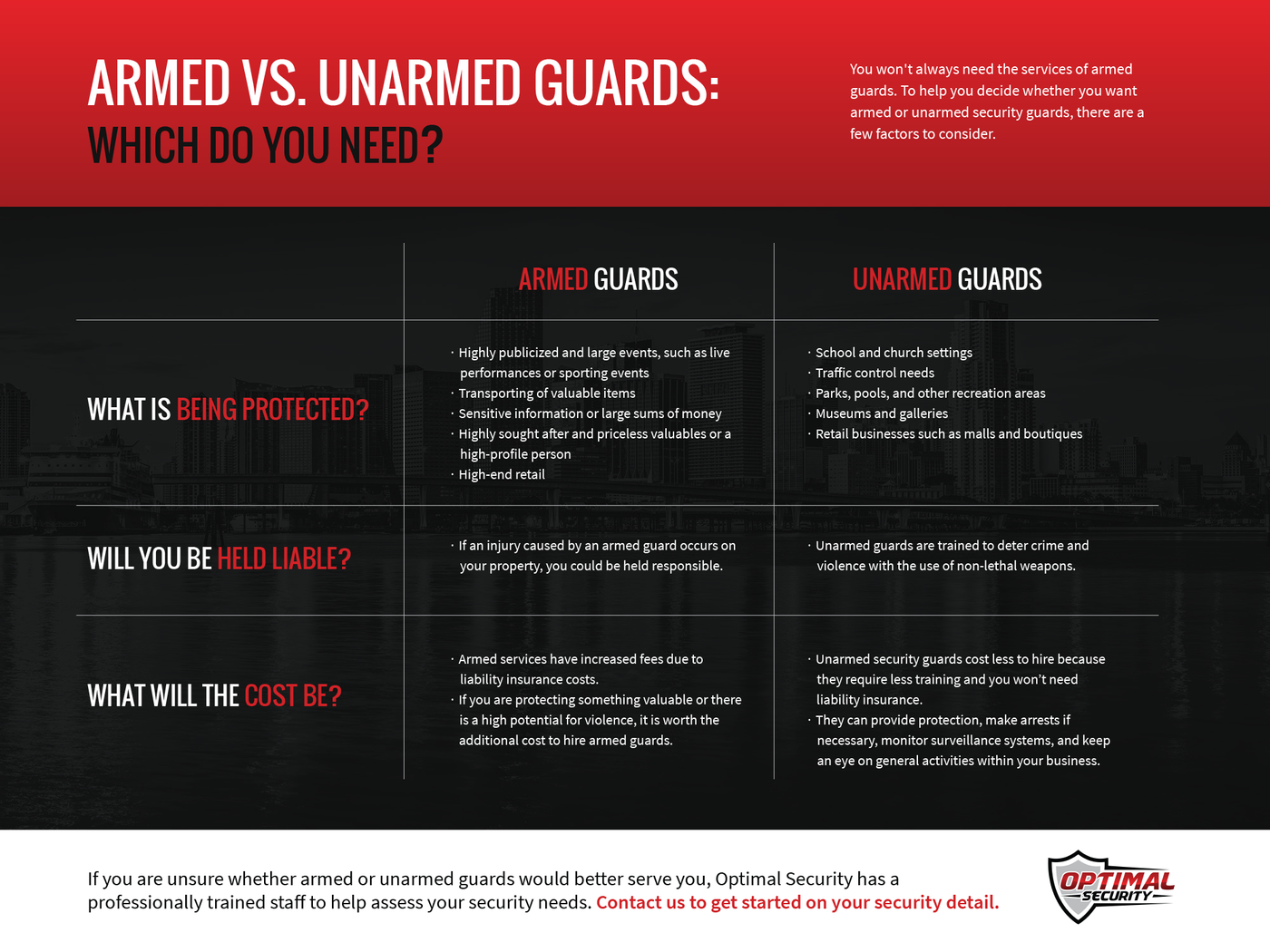 If you are unsure whether unarmed or armed guards would better serve you, you do not have to make the decision alone! At Optimal Security Services, our professionally trained staff can help you assess your security needs and provide the right detail to serve you the best. For all of your security concerns, contact us for more information today!
Sign Up For Our Newsletter